Create your beautiful landing page in minutes with a declarative API
Our easy to use landing page generator builds your landing pages with exceptional performance, SEO and accessibility built in.
Great structure without drag and drop
Everypage has all the sections, modules and theming needed to create an amazing landing page for all products. Sections and modules are designed to highlight value propositions and can be re-ordered and re-themed to create a personalised page.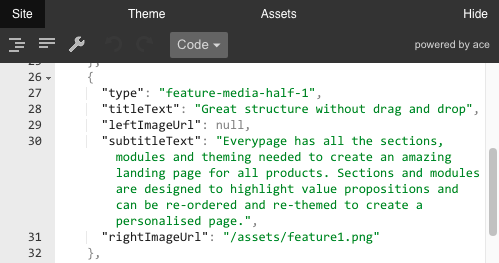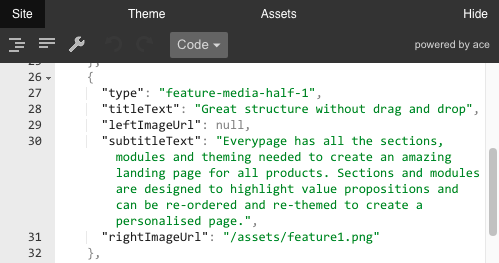 No need to learn HTML or CSS
Declare your copy, structure and theming in simple json and everypage will build a fully optimised HTML + JS website. There's no need to learn HTML or CSS and battle with the million different ways to do things.

Focus on your value proposition
Simply think through your value proposition (guidance here), populate the required fields for your site and within minutes you'll have your landing page which will be fully optimised and working without mistakes on all browsers.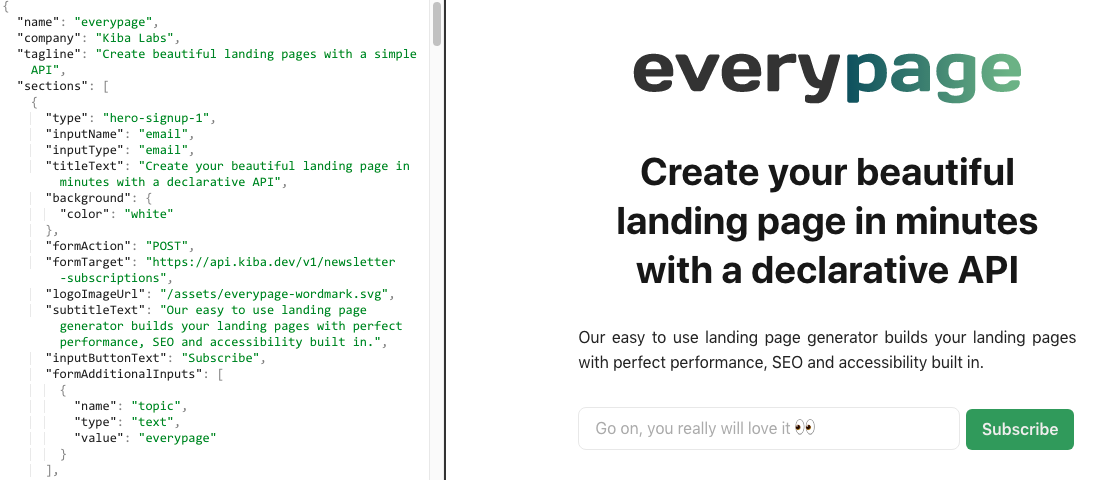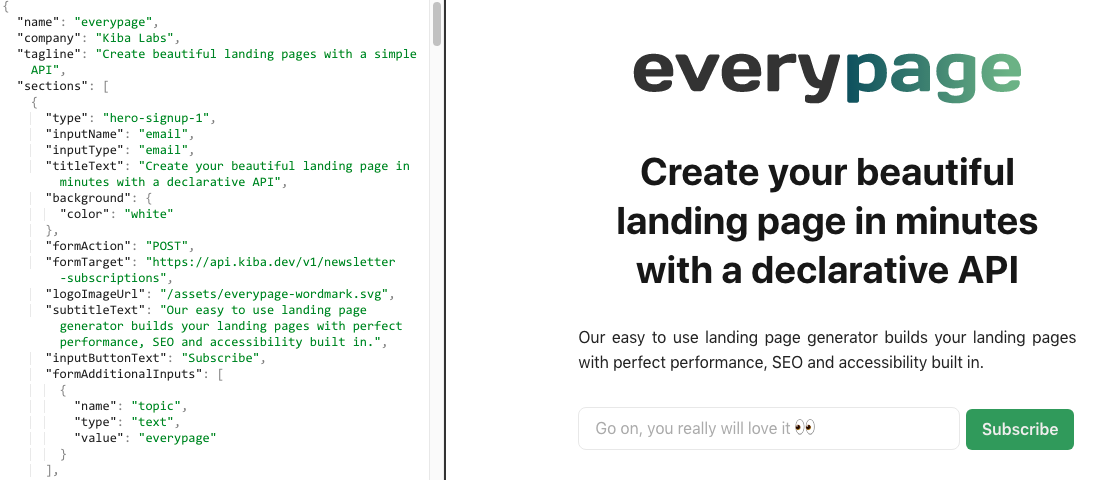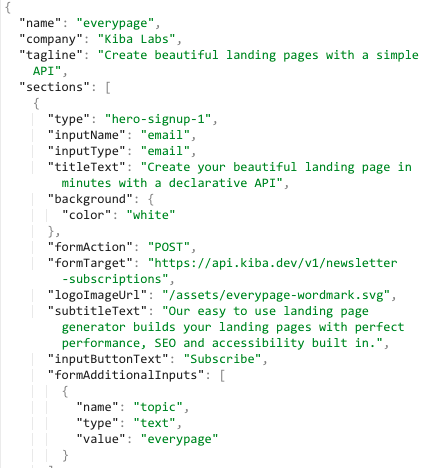 Almost all website hosting providers lock you in - the only thing they give you if you leave is HTML, JS and CSS files. To combat this, we are looking into creating a standard for the sections in everypage so other providers can implement them too. This means that you can take your easy-to-read-and-write JSON files to them and you're site will be up immediately!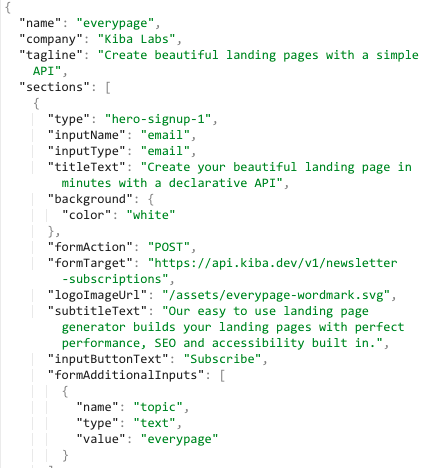 Open source (coming soon)
Towards the end of the year, we will be open sourcing the whole engine powering everypage. This means you can create and host everypage sites (with all in-built the features from our plans) yourself. Whilst our hosting is super-efficient, super-fast and super-reliable, you never have to worry about everypage being shut down because it will continue in code.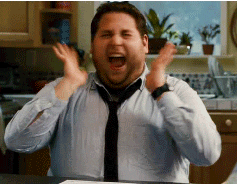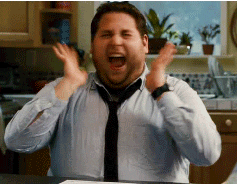 3 sites
1 page per site
1 personalised review
'made with everypage' branding
email and chatbot support
Custom domain
15 additional sites
2 additional pages per site
1 additional personalised review
25 additional sites
7 additional pages per site
3 additional personalised review
removal of 'made with everypage' branding
All plans come with these awesome features:
Got questions? We got answers...
What is everypage?
Everypage is a tool to help you build your landing page in the simplest way. Your landing page is just as important as your product as it'll usually be where users first learn about your product. We've completed extensive research on landing pages, from content to design and much more! We've done the thinking so you (as a developer) don't have to.
Why should I choose everypage over other landing page builders?
When you're creating a project on your own, you're wearing the hat of the developer, marketer, product manager and many more! With everypage, developers can focus on product development and offload their online presence to everypage. We will embed guidance on creating a page with great accessibility and SEO within our sections.
Is it free?
Everypage has multiple tiers of free and paid functionality, you can find pricing details above.
Do I need to know HTML/CSS?
No :) We intentionally built everypage for technical and non-technical users to be able to build beautiful landing pages.
Can I export my site?
Yes, just email us at hello@everypagehq.com and we'll send you a pure HTML + JS + CSS version of your library. Even better than this, the core of everypage will soon be open sourced which means you'll be able to simply use the library locally (and even change it however you want) to build your site yourself, or even as part of your CI / CD!
Is my website secure and backed up?
The website is fully secure, we use all the latest techniques and robust technologies (all on top of AWS) to serve your site. It's backed up by being on AWS S3 so will always be there for you.
Does everypage support drag and drop building?
We don't offer drag and drop because that's not how good structure is created. You can reorder our sections and re-theme them all you like to create a page thats unique to you.